In a recent report from Million Insights, the global durian fruit industry report provided a detailed evaluation of the industry by highlighting information on different aspects which include drivers, restraints, growth opportunities, and threats. This information can help stakeholders to make appropriate decisions before investing.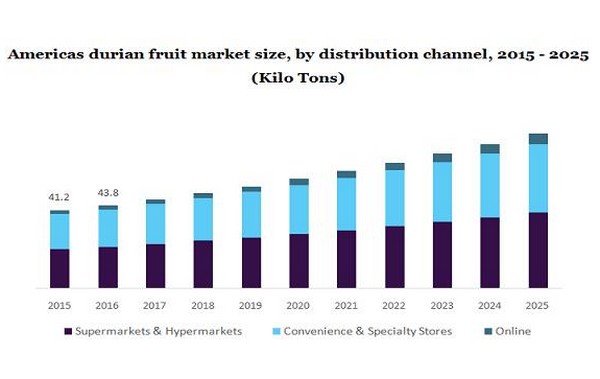 The global Durian Fruit Market size is projected to touch USD 28.6 billion by 2025 and registering a 7.2% CAGR over the forecast period from 2019 to 2025, according to the new report. The growth of this market is majorly driven by increasing demand for cross-cultural cuisine along with the expansion of the tourism industry. In addition, rising awareness related to health benefits of durian fruit among consumers is expected to spur product demand. This fruit helps to control sugar level and reduce the risk of cancer due to having an anti-oxidant, antidepressant and anti-aging properties.
Among the to durian products, the frozen Musang King Durian pulp & paste dominated the market and held the largest market share of over 70.0%, in 2018. Only a few countries such as Thailand and Malaysia produce durian fruits and these countries export this pulp in frozen form worldwide, thereby this segment has gained the largest market share. The frozen Musang King Durian pulp is very easy to consume instead of whole fruit which is again expected to augment segment growth. In addition, this product is used in several food products such as yogurt, pizza and ice cream due to increasing consumer willingness to experience exotic flavor.