The Rise of Durian,
China & The Future
Unlike Durian from Thailand which has been imported into China for decades Malaysian Durian was only first imported into China in 2011.  This however is only one factor behind Thailand's dominance of Chinese Durian imports. Two other important factors include China's restriction on Malaysian imports of Durian in fresh fruit form and the limited supply and export availability of Malaysian Musang King.
At the moment Malaysian Durian is only permitted in frozen form while Durian from Thailand can be imported in all forms. Durian fruit in fresh form is more desirable than frozen form in China as the Chinese are traditionally more accustomed to eat it that way. The inability of Malaysian fresh fruit imports has restrained Chinese consumption and growth from reaching its full potential as the Chinese prefer it over Durain from Thailand.  Nonetheless Malaysian Durian in frozen form is still highly in demand due to its preferred flavour profile over Durian from Thailand.
The Malaysian government noticing the significant loss of potential earnings due to rising prices and high demand has responded by making Durian production and exports a key focus recently with both the Ministry of Agriculture and Agro-based Industry along with FELDA (Federal Land Development Authority) promoting Durian globally.  Malaysia has been actively engaging China directly in effort to education consumers on the superiority of Musang King Durians and on seeking approval for the importation of Durain fresh fruit.
Malaysia in late 2017, held a 3 day Musang King Durian festival in Nanning, China that had over 160,000 visitors, with many queuing up to three hours under rain and sun to try the Durian.  The event was highly successful and confirmed the marketability and demand for Musang King. The Malaysian government on the back of this has spearheaded efforts for fresh fruit importation approval. The Malaysia's Agriculture and Agro-based Industry Ministry is expected to receive approval to export fresh whole Musang King Durian sometime in 2019.
Chinese consumption of Durian at the moment is only 0.21 KG per capita and is expected to reach a value of 2-3 KG per capita in the long run to be in line with countries with similar profiles and tastes such as Singapore, Taipei and Hong Kong. Consumption per capita can potentially reach higher as it is 11 KG per capita in Malaysia and 6 KG per capita in China. The constraint on consumption levels will be accessibility to sufficient supplies of Musang King rather than changes in consumer tastes.
Chinese consumption of Durian fruits has increased 13% p.a. from 2006 to 2016, identified purely through the volume of fresh fruits imported.  China by 2030 is expected to import 1 billion KG worth of Durian, much of which will be of the Musang King variety.
China – Expected Durian Fruit Imports (KG)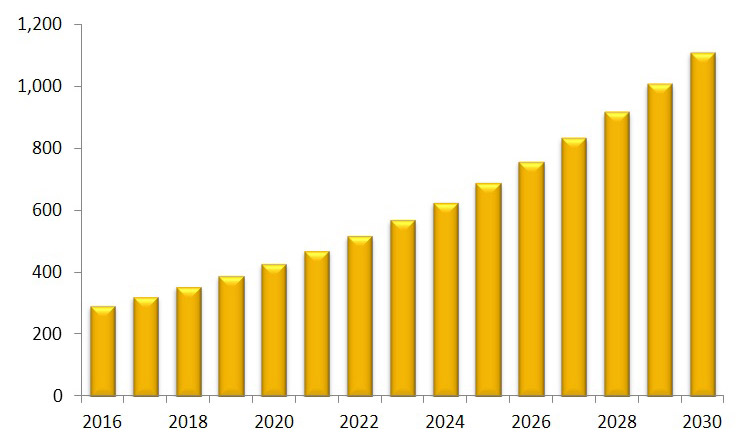 To find out more and receive free access to some of Durian Harvests market research reports, please call us at +852 5808 3775 or  Click Here to contact your nearest representative.