Global Durian
Trade & Demand
Global trade in Durian fruit is dominated by two countries at the moment – Thailand dominates exports and China dominates imports. Thailand in 2016 exported 402 million KG of Durian fruit, accounting for 95% of global trade followed by Malaysia with approximately 4%.  China dominated global imports in 2016 with 292 million KG or 66% of all trade, followed by Vietnam, Singapore and Hong Kong. Durian global demand can be quantified in two ways. Firstly by Durian demand in raw fruit form and secondly by the demand for Durian based end products. The retail value of Durian demand, domestically and internationally, in raw fruit form – fresh, frozen, paste and pulp – was estimated to be worth over 9 USD billion in 2016. Global demand and trade is expected to grow to more than 25 USD billion by 2030, driven primarily from Chinese demand.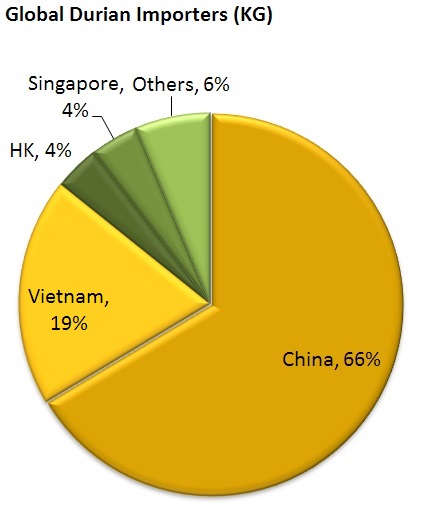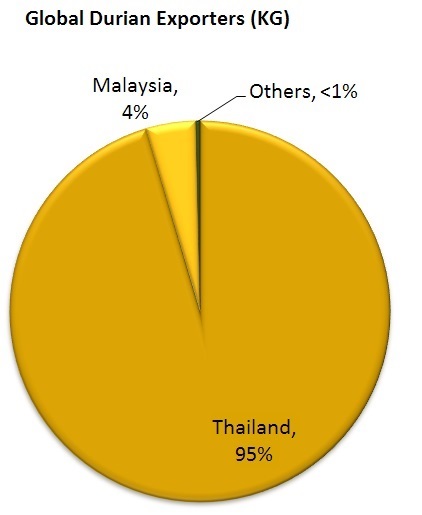 The global demand and trade value for Durian end products is difficult to ascertain due to the limited availability of data. It is still considered a relatively niche product with product growth still in its infancy. Durian end products include the market segments of desserts, snacks and beverages.  Durian's share of these markets is unknown but combined in Asia are worth over 275 USD billion annually and growing.   Durian end products have been growing in prominence over the past couple of years with large F&B brands such as Pizza Hut, KFC, Nestle and Starbucks introducing products to capture client demand. The Durian market is in the unique position of not only being in high demand but also of being insufficiently supplied.  Specifically, the Musang King Durian variety from Malaysia is highly demanded in the region due to its flavour but limited supply levels have been insufficient to meet it. High domestic consumption levels in Malaysia and neighboring Singapore have limited its export ability meaning that additional supplies will be needed to meet its demand. Global trade in Durian is expected to conservatively reach 2 billion KG by 2030, without taking a significant increase in Chinese consumption per capita into account and which is likely. Global trade is expected to reach 4.5 million KG by 2030 if Chinese imports grow as they have over the period 2006 and 2016.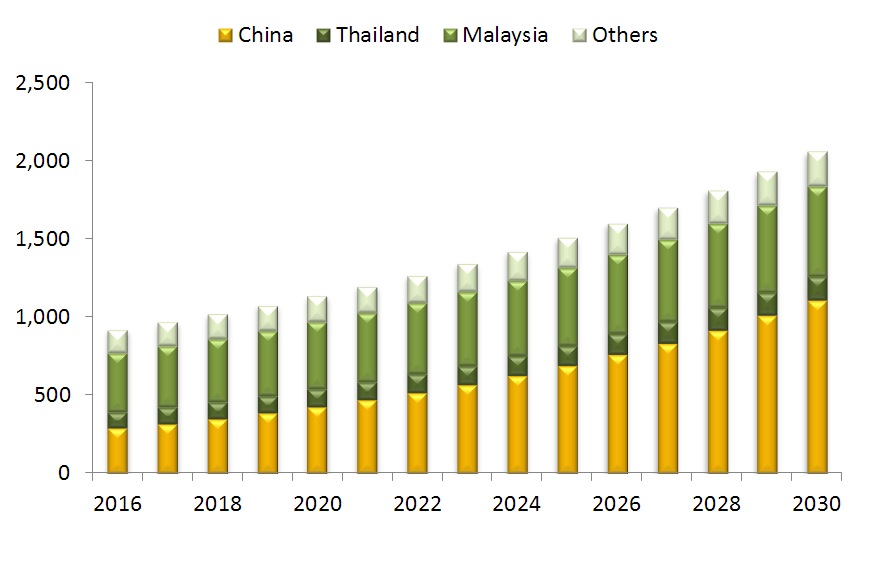 To find out more and receive free access to some of Durian Harvests market research reports, please call us at +852 5808 3775 or  Click Here to contact your nearest representative.