The durian supply on the Chinese market is almost entirely dependent on imports. In 2019, the import value of this fruit increased by 47% year-on-year, taking over cherries and making durian the fruit with the highest import value in China. In the first six months of 2020, although affected by the Covid-19 pandemic, China's durian demand did not shrink significantly. The explosive growth of import value this year is mainly the result of a sharp increase in the unit price.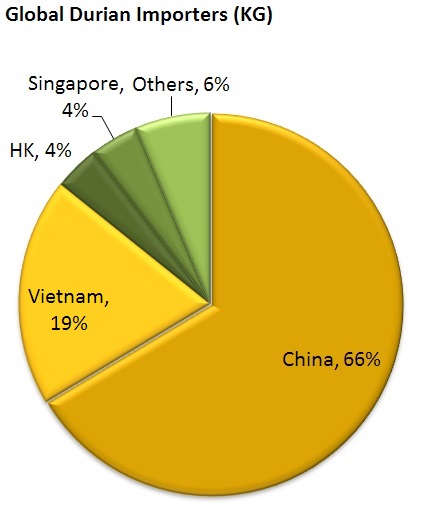 In the first half of 2020, the import value of frozen durians from Thailand totaled 63.43 million US dollars, showing an increase of 18.6% year-on-year. The unit price was US$5.80 per kilogram, showing an increase of 2.9% year-on-year. During the same period, China imported 40.37 million US dollars of frozen Malaysian durians, experiencing a year-on-year increase of 128.4%. Malaysian frozen durians officially gained access in June 2019, resulting in the large the year-on-year increase.
Due to the strong demand from China, Thailand has been expanding their planted durian investment acreages in recent years – even sparing no cost to reduce the cultivation of other crops. According to the Office of Agricultural Economics of the Ministry of Agriculture of Thailand, the production of main durian producing areas in southern Thailand will increase by 22% this year.
In addition to traditional sales channels, cross-border e-commerce platforms and online streaming media have created new durian export opportunities for Thailand. On June 9, Jurin Laksanawisit, Deputy Prime Minister and Minister of Commerce of Thailand participated in an online live broadcast to promote fruit to Chinese consumers. During the live broadcast, a total of 50,000 durians were sold. Malaysia has also been paying close attention to the Chinese durian market. Goh Tian Chuan, Chairman of the Chinese Assembly of Malaysia, suggested the government to provide growers with more arable land so as to produce more durians for export to China.